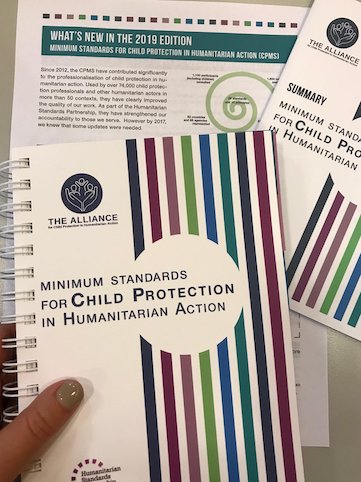 The 2019 Edition of the Minimum Standards for Child Protection in Humanitarian Action (CPMS) were launched in conjunction with the Alliance Annual Meeting on 15 October 2019, following a two-year revision process involving 1,900 individuals and 85 agencies. The revised edition reflects recent sector learning and evidence and improved guidance on prevention, gender and age inclusion, and greater accountability to children. It also includes targeted guidance for use in refugee settings and infectious disease outbreaks and concrete models for integrated approaches among child protection and health, education, nutrition and other sectoral actors. 
The 2019 Edition of the CPMS can now be accessed via the Alliance's website in both PDF and online interactive form. A limited number of CPMS handbooks in English are currently available to be distributed to inter-agency and field-based coordination groups. French, Arabic and Spanish versions of the CPMS handbook will be available in early 2020. 
CPMS webinars will be coming in December 2020!  If your agency or network are interested in holding launch events or supporting the roll-out of The 2019 Edition of the CPMS, please contact the CPMS Working Group at cpms.wg@alliancecpha.org.
Initiative this is part of:
Working groups and task force this is relevant to: