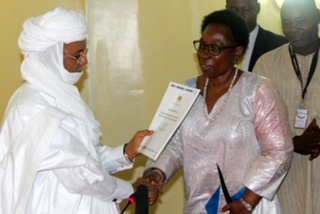 Photo courtesy IRC. 
On October 23, 2018, an official ceremony was held to mark the delivery of contextualized Minimum Standards for Child Protection (CPMS) handbooks in Niger. Present at the event were the Prime Minister of Niger, Brigi Rafini; members of the Nigerien government; and UNICEF Representative in Niger, Felicité Tchibindat. 
Six of the 26 CPMS standards were selected for contextualization due to their particular relevance to the current context in Niger. Those standards are: 
Standard 9: Sexual Violence (in line with The Child Survivor Initiative);
Standard 11: Children Associated with Armed Forces and Armed Groups (CAAFAG); (in line with Boko Haram and other armed groups);
Standard 15: Case Management (in line with the Alliance Case Management Task Force and the first CPMS Roll-out); 
Standard 16: Community-Based Child Protection Mechanisms (CBCPM) (in line with the strategic plan of the Child Protection Sub-Cluster and the issues of threats to focal points);
Standard 19: Economic Development and Child Protection (in line with the exit strategy); and
Standard 20: Education and Child Protection (in line with the safe school concept). 
In his speech, Prime Minister Rafini affirmed his government's commitment to promoting the CPMS in humanitarian interventions in Niger. 
 
Attached files:
The Child Survivor Initiative
Working groups and task force this is relevant to: