Led By: Save the Children and UNICEF
Our Mission
The Child Protection Minimum Standards (CPMS) Working Group supports the participatory setting of sector-wide standards for child protection in humanitarian action, promotes their use and institutionalisation and captures lessons learned to improve them
The Child Protection Minimum Standards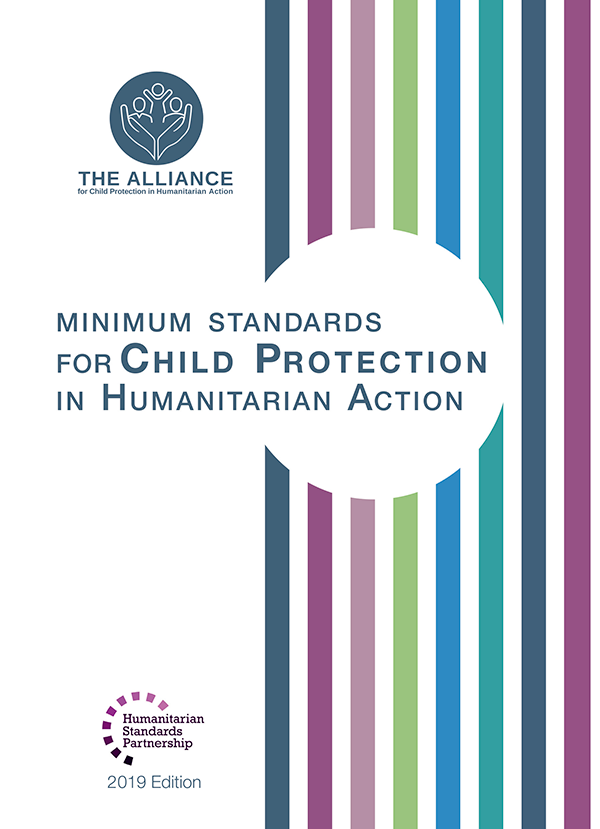 One of the most widely used set of humanitarian standards, the CPMS are a tried and tested solution for child protection practitioners seeking to deepen their professional knowledge and improve their organisations' programs.
Find Out More
Implementing CPMS Across Humanitarian Sectors

Every humanitarian actor has a responsibility and a role to play in protecting children and promoting their well-being. Collaborating across sectors is crucial to achieve these goals and make the most of available resources.
Latest News
Calling on Education and Child Protection Practitioners - Help Us Assess the Impact of Collaboration Efforts
Much energy went into promoting closer collaboration between Child Protection and Education actors over the last two years - but is it working? If you worked in a humanitarian setting in the last two years, we would like to hear from you through this 10-minute survey. Over the last few years, the Alliance for Child Protection in Humanitarian Action, the Child Protection Area of Responsibility, the...
CPMS Mini Course
Do you want to learn about Child Protection Minimum Standards? Are you curious about how to put them into practice? How about becoming a CPMS champion? Sign up for the pilot of our free-of-charge mini course! This is your opportunity to join a pool of champions who know how to use the Minimum Standards for Child Protection in Humanitarian Action (CPMS) to improve the quality and accountability of...
Working Across Sectors Microsite and Toolkit
Collaborating across humanitarian sectors is crucial to protecting children, promoting their well-being, and making the most of available funding. The CPMS Working Group's "Working Across Sectors" initiative is gathering technical resources to help practitioners from all sectors achieve just that. The new Working Across Sectors Toolkit for Building Awareness and Support in English, Arabic, French...
Seeing Forced Displacement and Protection Through a Child's Eyes
Ever wondered what forced displacement looks like to children and what protection means to them? If so, you may want to check «I am Mariam», an Arabic-language illustrated storybook about a young girl forced to flee her violence-torn hometown. The publication reflects the lives of many forcibly displaced children, as its balance of hard-hitting realities and small acts of kindness comes from...
News | E-Course on Minimum Standards Soon Available in Spanish and French
Good news for Spanish- and French-speaking humanitarians interested in strengthening their ability to use the Child Protection Minimum Standards (CPMS) in their work. The CPMS eCourse will be available in those languages in just a few weeks. The eCourse allows users to acquire or deepen their knowledge of the standards and of how to implement them in humanitarian settings. It takes only 4-5 hours...
CPMS Group Member Organisations
Priorities
During 2022 and beyond, the Working Group will continue:
Overseeing the roll-out of the CPMS 2019 edition,
Promoting the CPMS implementation across sectors,
Developing multimedia capacity-building resources,
Supporting humanitarian agencies to institutionalise the standards, and
Ensuring resources are available in Arabic, French and Spanish.
Resources

Minimum Standards for Child Protection in Humanitarian Action
The Minimum Standards for Child Protection in Humanitarian Action 2019 Edition equip humanitarians seeking to protect children effectively with the most comprehensive and up-to-date best practice so they can deliver professional programs.
CPMS Standard 25: Nutrition and Child Protection
Standard: Children and their caregivers, especially pregnant and lactating women and girls, have access to safe, adequate and appropriate nutrition services.
CPMS Standard 24: Health and Child Protection
Standard: All children have access to quality protective health services that reflect their views, ages and developmental needs.
CPMS Standard 28: Camp Management and Child Protection
Standard: Camp management activities address the needs and protection concerns of children affected by forced displacement.
CPMS Standard 26: WASH and Child Protection
Standard: All children have access to appropriate water, sanitation and hygiene services that support their dignity and minimise risks of physical and sexual violence and exploitation
Child Safeguarding and Health
This document outlines some potential child safeguarding risks of health programmes, and gives suggestions on how to manage them to ensure children are as safe as possible.
Child Protection for Minimum Standards Working Group Leads
Joanna Wedge, UNICEF
Susanna Davies, Save the Children